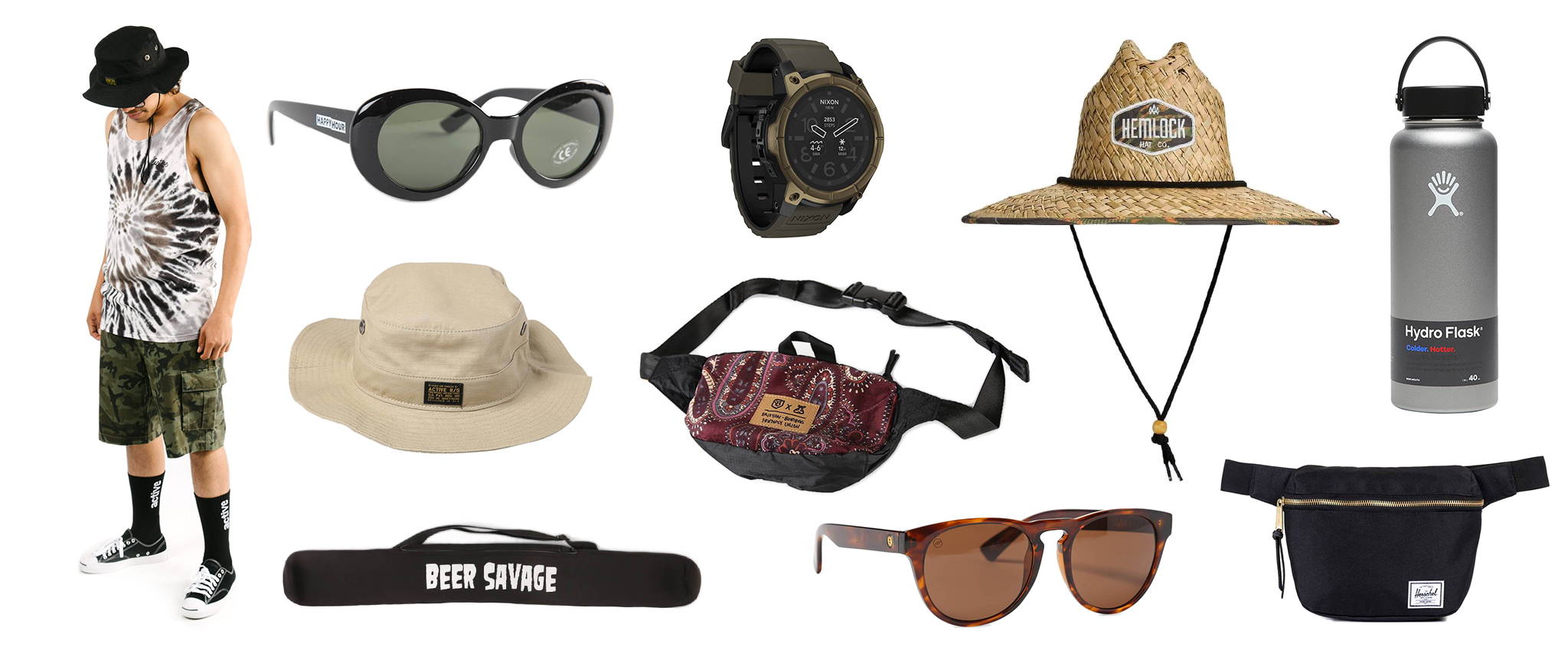 "Festival Season" sounds pretty cliché so this is like an items survival list of things to bring to the desert. What do you bring at these festivals in the desert like Coachella? Or even not at the desert but in L.A., like FYF to top it off. There are obvious things like sunscreen and what not but here is a list things to bring that you can buy at Active, like the accessories and items you should have while out in the desert. Good luck, have fun. (P.S. we like to say 'like' a lot because like, we're from California. Obvi!)
---
First thing's first, water is a definite must. They're not just any waterbottle. These things will do the job with holding water, also they keep temperatures longer than usual. You want these cold so they'll hold up for a whole day. Contrary to the cold, they'll hold up to 6 hours of anything hot you put in there. You can put other things besides water in them too... get creative. Shop All Hydryoflasks Here
---
BEER SAVAGE SLING
Now if H20 hydration doesn't suit you, bring this with you to keep your cans cold. It's meant to hold up to 6 beer cans straight outta the box. Get this. Support the movement (if you're 21 and up that is), shop Beer Savage.
---
You may need an all around brimmed hat to keep your face and neck from burning up. May we recommend these hats: Hemlock Hats. If you're not trying to stand out too much, try an Active Boonie Cap.
---
It's a must have when out in the unforgiving Sun. We recommend these: Electric Nashville XL. Or if you're looking for something more affordable (because if you're like most people, we tend to lose our expensive shades all the time) try on a pair of some stylish Happy Hour Shades.
---
You will also need to put your things in something other than your pockets, you'll never know who will pick-pocket ya at these desert events. We insist on getting these hip sacks: Bum Bag. We just got a bunch of new ones in from their Spring '18 line. Overall, they just look really good on you. Herschel makes some too, so we'll just throw these in there for you to pick out. Bum Bug also did a collab with Brixton and we have a few of those up left on our online shop.
---
Who wears short shorts? Well we have 'em here. Get a cool breeze going through your legs wearing shorts. Shorts are self explanatory, you either like 'em or you don't. We got a plethora of different kinds of shorts ranging from Hybrid, Elastic, Chino, Boardshorts, & a new category: Fringe Shorts that are basically crazy patterns that the cool kids are into these days.
Take a look and shop all the shorts HERE. Tank tops are a hot commodity at the desert too. Shop All Tank Tops HERE.
Here are a few recommendations for shorts, The Active Fatigue Cargo Shorts & Dune Volley Shorts:
---
We ain't done here yet, folks. Time to watch it, it's important to know where you are just as much as it is to know what time it is. After all, it's a desert out there. We recommend Nixon watches. Enough said.
---
Welp, that's all we have for today. Have fun out there in the desert.